"Flowers… are a proud assertion that a ray of beauty outvalues all the utilities in the world."
To make every occasion beautiful and happier, one should never fail to deliver these blossoms to your loved ones. They could add more positivity to your special day. Flowers would never fail to lift up the spirit of your soul and spread the same among your near and dear ones. After all,
"Flowers always make people better, happier, and more helpful; they are sunshine, food, and medicine for the soul."….Let us explore some florists of Thailand.
List of online flower stores in Thailand
Thailand Flower Delivery
This florist in Thailand offers a diversity of admirable seasonal flowers. These seasonal flowers are turned into eye-catching bouquets. The florist offers a beautiful range of flowers and gifts to people all across Thailand. Some of their featured products are – Flower Bed, Orchid Delight, The 12 red roses bouquet, Season of joy bouquet, and many more. You can visit this florist to send flowers on any occasion like valentine's day, graduation ceremony, father's day, mother's day, new year, or a grand opening.
| | |
| --- | --- |
| Specialty | bouquets |
| Delivery | free delivery |
| Contact | +66 98 943 6997 |
| Website | flowerbangkok.com |
Siam Florist
Are you looking for wonderfully fresh plants accompanied by mesmerizing gift baskets?
Flowers in SiamFlorist are expertly arranged in the best possible way and are hand-delivered to your place with love. Lovely Mother's day flowers, exquisite valentine flowers, or thoughtful birthday flowers…everything is found here.
They have the widest and loveliest collection of flower bouquets in Bangkok, Thailand. If you desire to buy some local flowers for your special occasion, then you can surely visit this florist.
| | |
| --- | --- |
| Speciality | Lovely bouquets |
| Website | siamflorist.com |
| Line id | @flowerthailand |
| Delivery | nationwide delivery |
3. Thai Style Flower Shop
This Thai-style of flower shop in Thailand offers beautifully woven flower arrangements for you. Their colors are a representation of their culture, perspectives, and long-kept belief systems. Line flowers and mass flowers are some commonly used flowers in the Thai tradition. This florist sells more for funerals – selling amazing wreaths and mind-blowing garlands.
| | |
| --- | --- |
| Speciality | Garlands and wreaths |
| Price range | Very reasonable price |
4.Flowers2Thailand
This florist in Thailand offers a high degree of preserved flowers, fresh flowers, and others for you. They believe in serving customers with utmost honesty and have room for fast, concise, and friendly customer support. They have a wide collection of numerous flowers for New Year Day, Mother's Day, Father's day, or Christmas.
They offer only premium quality products with an endless pursuit of improvement on their website.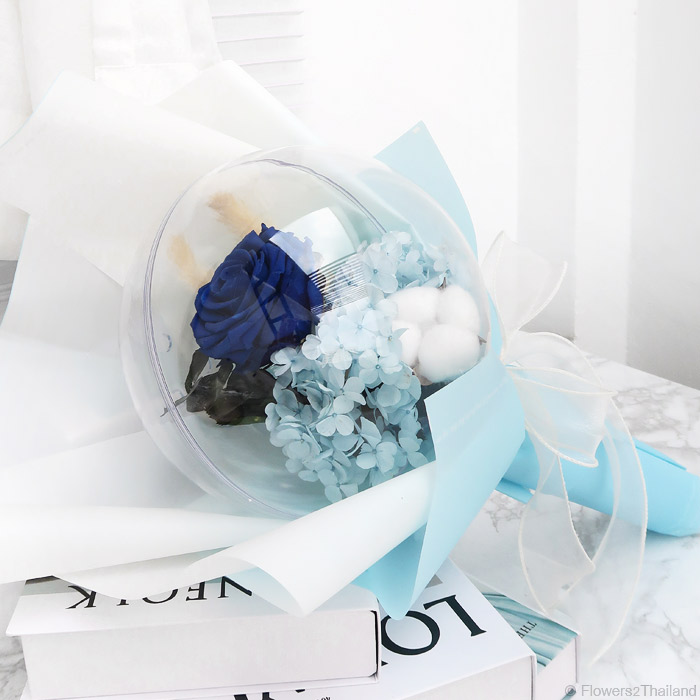 5. Forever Florist Thailand
With reasonable prices and quality flowers, the shop is offering some special offers of-
rose gift boxes, luxury combos, flower baskets, and many more!From
red, yellow, orange, pink, white and mixed color…a lot is available to match your requirements every time. Beautiful varieties of tulips , gerbera, sunflowers, orchids, lilies, and roses for occasions like birthdays, anniversaries, etc are offered. Not just this, they have a never-ending collection of-Sorry flowers,sympathy flowers, get well soon flowers, and birthday flowers.
This florist offers a splendid variety of beautiful flower arrangements for all occasions. The flowers are fresh, giving a good enough value to your gift.
| | |
| --- | --- |
| Speciality | Leading florist in fresh flowers |
| Contact | +66 0 2 001 5040 |
| Website | |
| Price range | less than 50 dollars to over 150 dollars |
| | |
6. Gogo Florist
This florist in Thailand helps you to deliver fresh flowers for V-Day, New Year Day, Mother's Day, Father's day, or Christmas. Beautifully designed and classically arranged floral collections can make your special event a success. With a specialty in providing romantic bouquets, this florist in Thailand ensures that their rose quality is none less than superior.
| | |
| --- | --- |
| Website | www.gogoflorist.com |
| Speciality | love bouquets |
| Contact | 0813863366 (English) / 0882682032 (Thai) |
7. Close to Nature Flowers
Close to Nature flower shop in Thailand strives to present a collection of specially designed bouquets that could be a fit for every occasion. Whether you need them to express grief during carnations or blessings during a New Born Baby's celebration event, they have a wide variety of flowers with their own unique designs. They have both small and large selection sizes for the fresh bouquets they prepare. Looking for unique bouquets in Thailand? Well, close to nature flowers would be a great choice!
8. A Better Florist
A Better Florist sources flowers directly from flower farms in the Cameron Highlands, Malaysia to offer the freshest product imaginable at an affordable price. Designed by our professional florist, each bouquet is stunning and long-lasting. We make it easy to send love to the people you love.
| | |
| --- | --- |
| Website | https://abetterfloristbangkok.com |
| Contact | info@abetterfloristbangkok.com |
| Price starting at | Starts at ฿3000 |